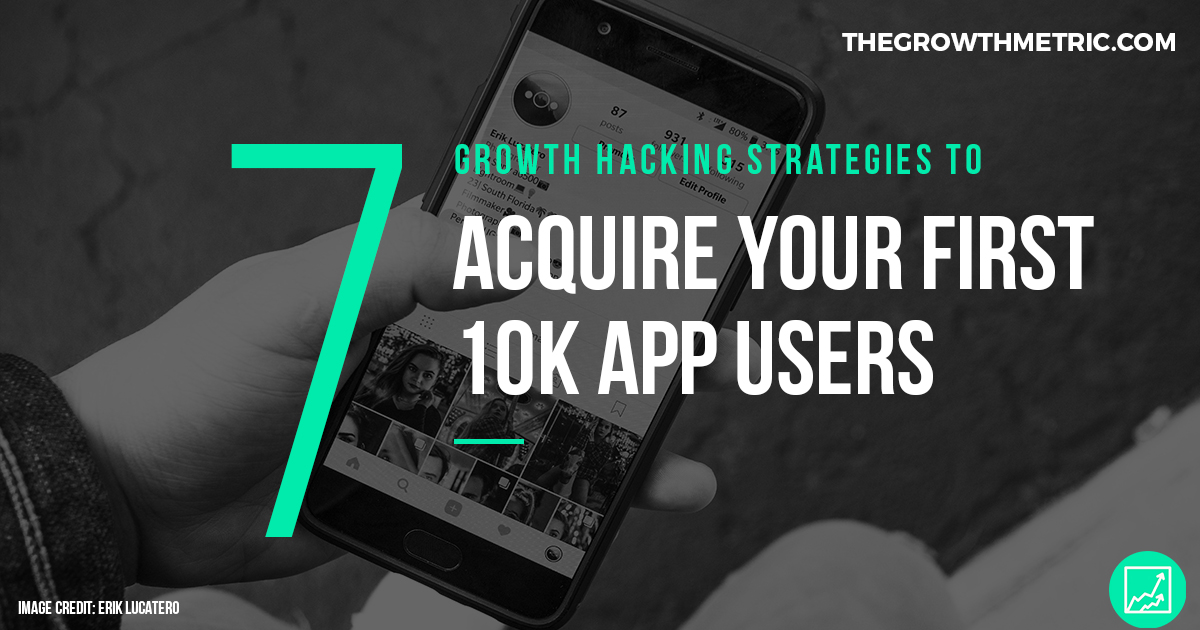 Let's talk about App Growth Hacking strategies.
Launching a new app is exciting, but it also entails a lot of work especially if you want it to grow exponentially within the first 12 months. Since mobile apps are on the rise, it's getting more challenging to penetrate this saturated market.
This is where app growth hacking becomes useful.
App Growth hacking isn't some kind of magic pill or easy-fix. It's about creating a sustainable and effective growth strategy. If you have an app and are struggling to acquire new users, there are some things traditional marketing can't achieve.
You want to be able to find a way to squeeze as many conversions as you can from your mobile-marketing efforts at almost zero cost.
Fortunately, there are certain strategies you can do to hack your growth and set you up for success:
1. Optimize your app landing page
Pre-launch activities include building awareness and excitement for your app. A great way to start is building a landing page or web presence that serves as the hub for all useful information.
The site should evolve based on your app's development phase to gradually reveal more and generate buzz prior to launch. If you're not ready to launch yet, aim to collect as many e-mails to grow your mailing list and announce any updates about your app.
An example of a pre-launch landing page would be Musx's website.
Elements of a great landing page
Name and logo – Your landing page is about building awareness for your app, so make sure you are prominently featuring these.
Headline – This is how you would explain your app in just a few words. Tip: Keep your headline short and simple.
Call to action – If your app hasn't launched yet, ask them to sign up for the mailing list. After it has launched, include now a download link for App store and Google play.
Social buttons – Assuming you already have Facebook pages and other social profiles up, this will definitely give you extra exposure.
Video or Screenshots – Rich media always works to give users a glimpse of your app. If you're doing video, just include a short introduction of what your app does, its features, and benefits.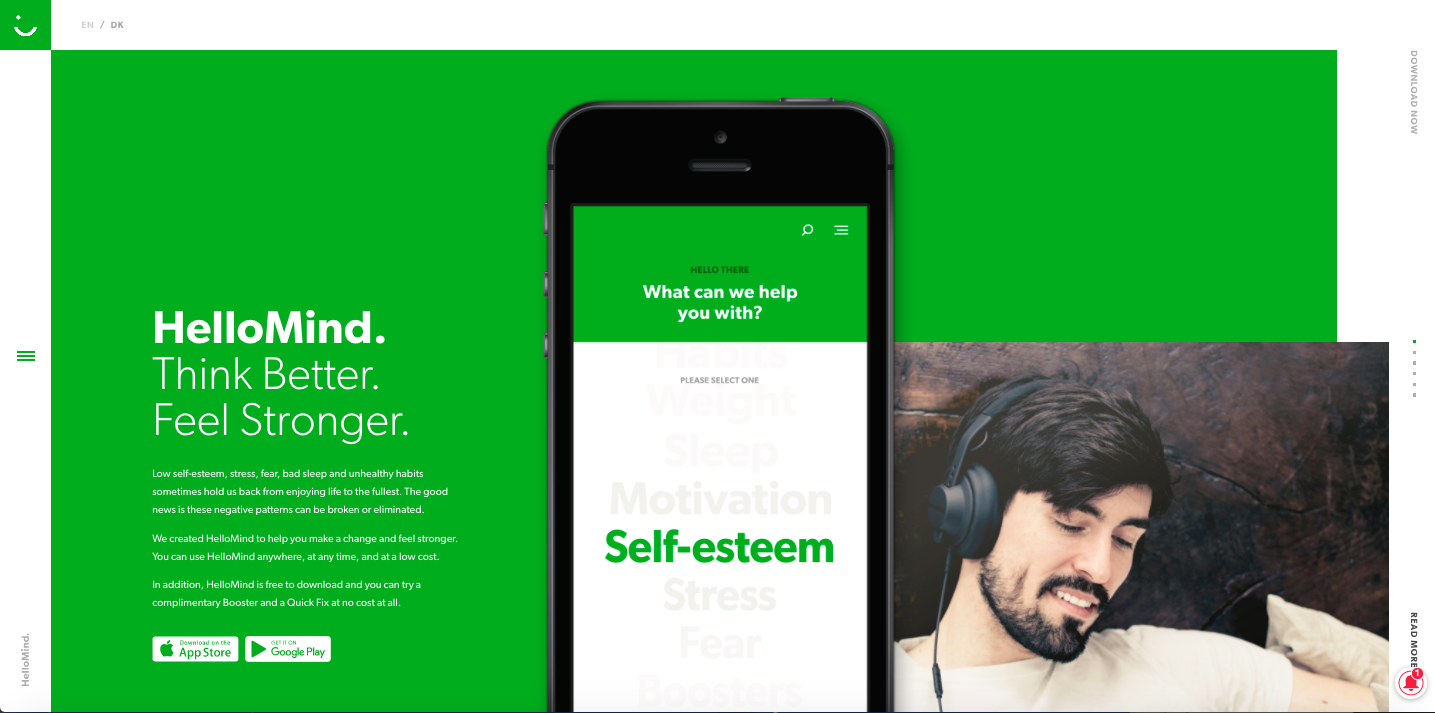 HelloMind's landing page includes all the important elements we've covered so far.
It's not enough to build a well-designed landing page. After all, this tip is about optimizing them so you get better reach and encourage organic traffic to your landing page and app.
By refining your landing page search engine optimization, you can increase the number of people who find out about your app, and then direct them to in-app stores.
If you set up a blog within your site, select keywords that your users would search when trying to find your app, or a similar app with features like it. Maximize your landing page keywords by using Google's Keyword Planner and Google analytics to track the resulting traffic.
2. Get found on the App Store
So you're finally launching your app in the store, Congratulations! But wait, how will users now find your app? You could have the best functional app out there, but if users are not able to find it, you'll get lost among the 5 million apps in Google Play and Apple store combined.
However, it's still the most effective way of getting users. Data has shown that 63% of all apps downloaded and used in the App Store are found by users browsing for apps.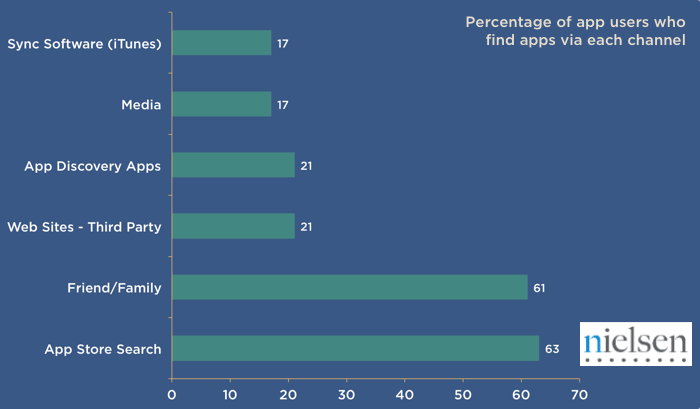 Thus, this is where 'app-store optimization' (ASO) comes in. There are concrete things you can do to maximize your app 'findability' which you can directly control:
App Title – This is crucial in getting it right at first. Keep your brand name short and clear; include some keywords that would succinctly describe what your app does. Examples are 'Google Maps – Navigation', 'Pandora – Free Music & Radio', 'Whatsapp Messenger'
Description – Focus on writing a concise and attention-grabbing description in the 'above-the-fold' section (first few lines). Patrick Haig, VP of customer success at Moz.com says that 'Above-the-fold language should be 1-2 sentences describing the app and its primary-use case, and below the fold should have a clear and engaging feature set and social proof'.
Keywords – This field appears only in Apple's App Store and only has a 100-character field. Use them wisely by focusing on relevant, high-volume and unique keywords.
Icon – Make sure you have an eye-catching, memorable icon that really communicates your brand. An effective icon can boost your download up to 560%!
Screenshots – This is your storefront window – so make it sell! Make sure they clearly communicate core functionality and features of your app so it's worth investing on a good designer to make them as sexy as possible.
Here's a simple chart by Quicksprout to know the differences between optimization for both Google Play and Apple's App Store: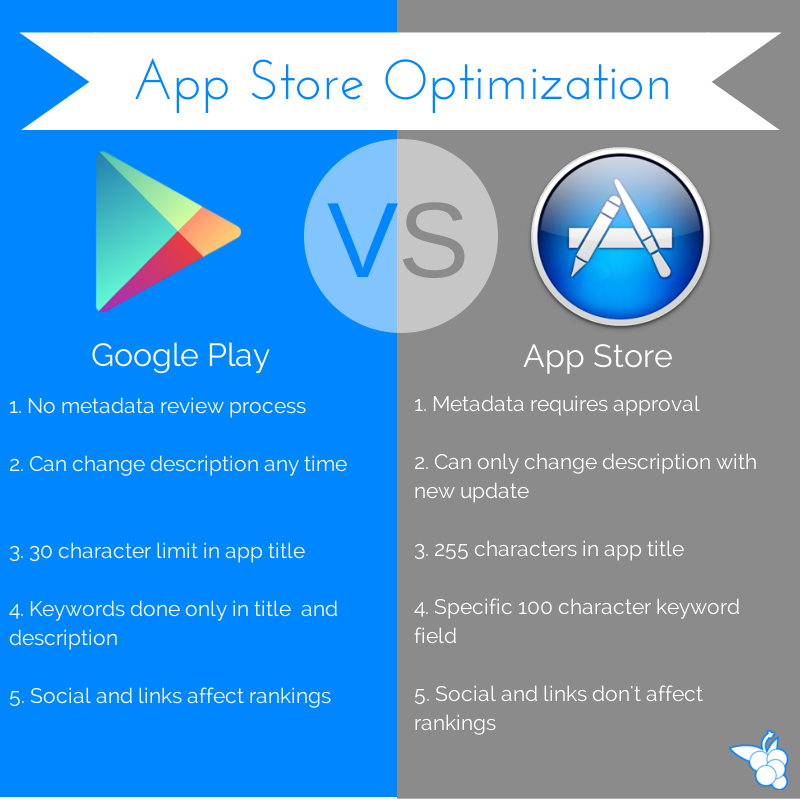 If you want to know how to get featured in the app store, here's a good guide to read.
3. Try exclusivity marketing
This is a classic psychological trick marketers use to pique interest and attach more value to the product or service. Exclusivity can generate an initial buzz around your app — if done effectively.
A good example for this is Spotify, who used invite-only to manage the influx of new free users and encourage paid subscriptions. They successfully created a viral element to the service, with users having only 5 invites at first to share with friends.
Additionally, they invited beta users who are influential, and tech reporters who could write about them, which added to the buzz and anticipation.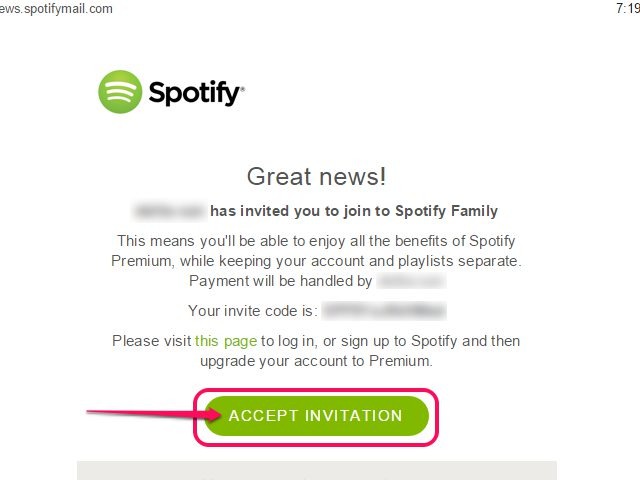 4. Know Your Data
The heart of being a growth marketer is in the analytics. You need data to measure things and improve them.
It's not enough to know the number of downloads to gauge the success of your app. In fact, there has been data that shows 77 percent of users abandon an app within three days.
That's an outstanding number, which convinces you to take a closer look at your user's behavior patterns and determine how to keep them.
You can start by signing up to an analytics app. There are tons in the market, but a few of my recommendations (optimized for mobile) would be Localytics, Flurry App, Mixpanel, and Apsalar.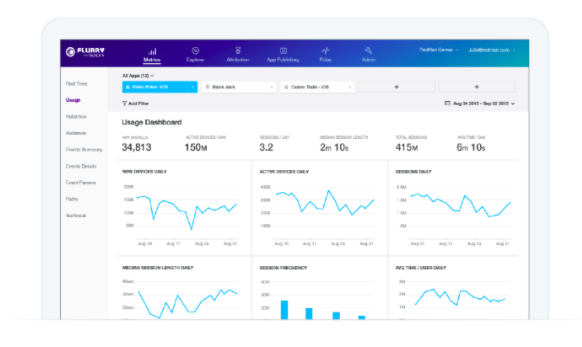 VSCO is a good example who used a data-driven approach to apply analytics and grow its user base to over 30 million. Their teams used Mixpanel to quickly (and easily) gain more insights from their data.
If you want to grow your app faster, you need to plan the right strategy backed with meaningful data and a deep understanding of your app user base.
5. Take advantage of in-app messaging
Since you've known by now that a big chunk of your users abandon an app within three days of downloading, the biggest challenge now is retaining your users. There are many ways to do this, but to maintain that "stickiness" you need to keep your users engaged.
Push notifications and in-app messages are the most common ways to increase user engagement. Develop a strong messaging strategy so they don't easily fall out of the conversion funnel. If you take advantage of this, it would not only increase engagement but can ultimately increase growth.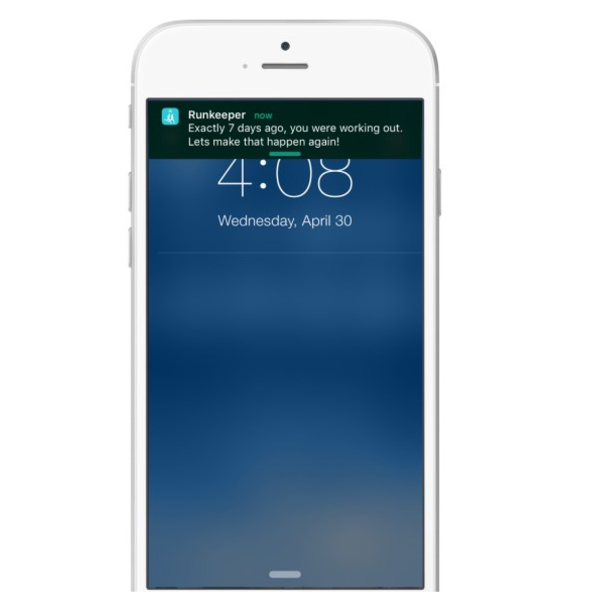 Runkeeper is an example that implements a strategic messaging strategy to encourage their users to come back to the app
6. Create a *viral* referral program
Everyone wants their app to go viral. But the question is, how?
Aside from the obvious fact your app needs to be exceptionally useful, one of the most effective (and cheapest) ways to explode your growth is to focus on referrals. The most successful apps today have integrated this strategy and incentivized its users to let others download their app.
Here's some proof:
Airbnb used in-app referral strategy to boost their sign-ups by 300% simply by giving Airbnb credits for every new referral sign-up.
Dropbox exploded their growth to over 3900% over 15 months after implementing a customer referral program.
Google Apps for Work rewards its customers with $15 whenever an active user signs up through their personalized referral link.
Uber offered a dual-sided reward where it generates a unique referral code for its users, and gives away a FREE Uber ride (both parties) every time a new account is created using that code.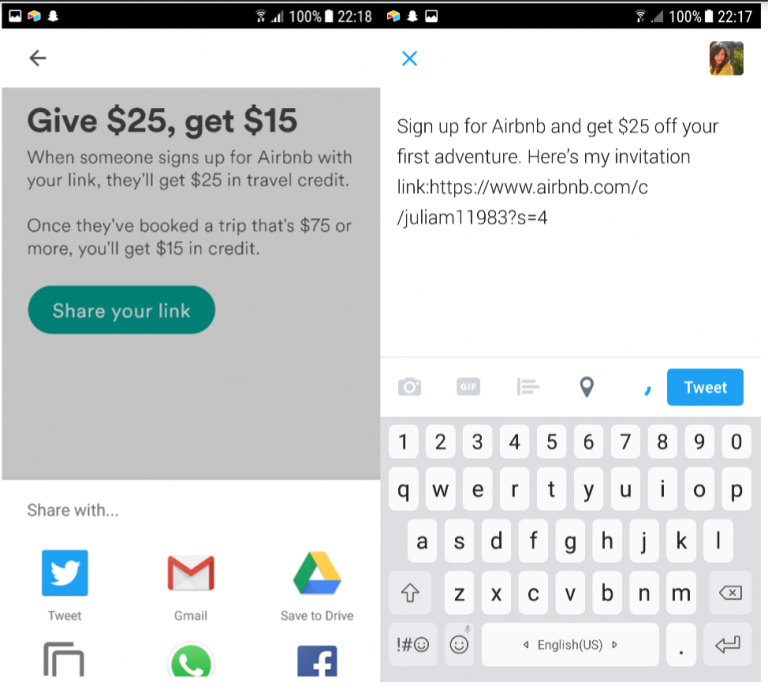 Airbnb makes in-app referrals easy with extensive social sharing options
The key to creating a successful referral strategy for your app is to trigger virality. You'd want to keep it super simple and easy for your users to do — then offer a clear reward for doing so. Creating viral loops is based heavily on simple, effective mechanics.
7. Bump up your App Store ratings
Neil Patel, one of the internet's biggest marketing gurus, said: "Social proof is the lifeblood of online marketing".
Ratings and reviews have a big impact on your app downloads because 63% say they trust consumer opinions posted online. Additionally, the higher your app rating is, the higher chances you get bumped up in the app store.
How to improve app ratings?
Aside from investing on a good UI/UX design, ensure you are delivering a seamless onboarding experience. It should start their journey right with an omnichannel messaging and easy-to-navigate platform.
Find the best time to ask for reviews by implementing event-triggered messages such as after completing a transaction or making a reservation. The key is to encourage satisfied users to give you feedback and (hopefully) positive reviews by using a "send feedback" option.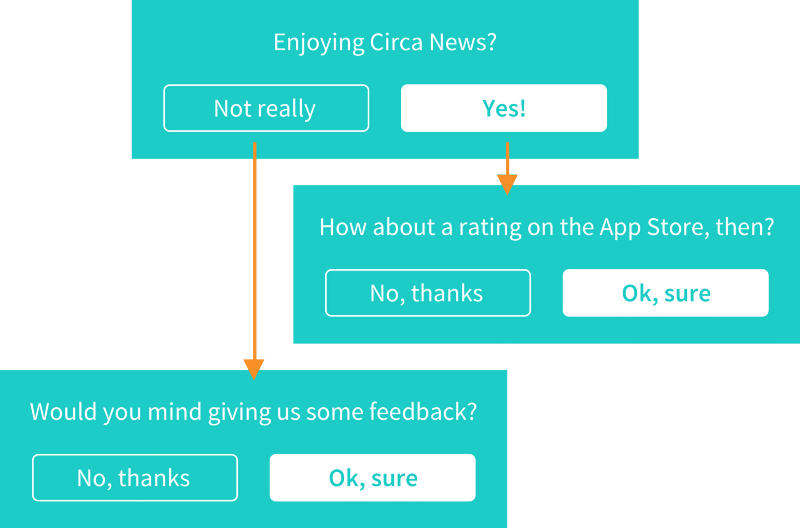 Here's a good example of feedback flow from Circa News app.
Conclusion
When you launch your new app, you need to focus all your marketing efforts on two things: acquiring users and retaining users. Implementing these app growth hacking strategies can help achieve both.
Remember to keep optimizing and improving your conversions religiously. Having clear success metrics from the start is also crucial so that you can objectively measure your performance and ultimately grow.
List of resources on App Growth Hacking: