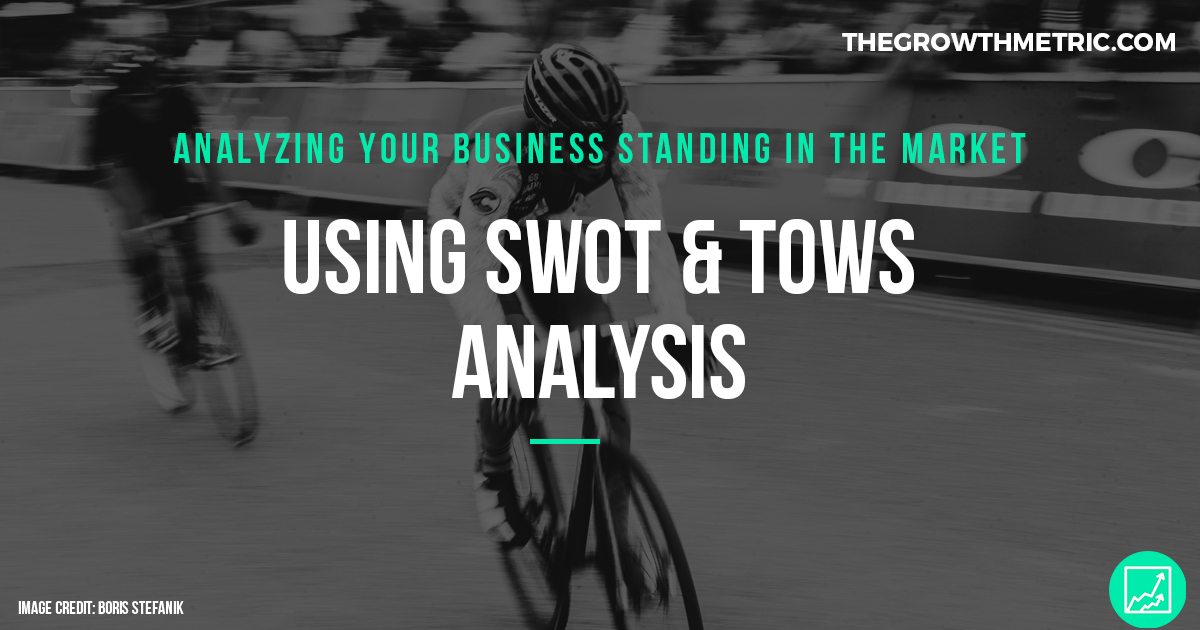 Once in a while, it's important to analyze your business position in the market. This is where frameworks such as SWOT, TOWS and PESTEL analysis come into play. In this article, we will focus on SWOT/TOWS analysis.
S.W.O.T. stands for
Strengths
Weaknesses
Opportunities
Threats
I like to add an extra T for "Trends"

A SWOT analysis is a list of your business internal strengths and weaknesses, and external opportunities and threats.
What Does This Really Mean for Businesses?
A SWOT analysis summarizes the whole of the marketing audit and helps you to visualize your business situation.

Doing a SWOT analysis shouldn't be a complicated affair, it can be a simple brainstorm exercise where the internal business factors are listed under strengths and weaknesses.

These factors are in the business's control and can be used to determine the objectives and priorities for planning, turning weaknesses into strengths.

For example, a weakness might be a product that has caused a lot of customer complaints, which could be divested, or you could divert more resources to change it and improve performance.

If you are using SWOT analysis for a particular market or product, some of the five factors (Strengths, Weaknesses, Opportunities, Threats, and Trends) might be more detailed and specific than others.

However, you should keep in mind that in one instance something that might be seen as strength, for example, a wide product range may also be a weakness if the company has to market too many line items.

Existing businesses can use a SWOT analysis, to assess the constantly changing business environment and respond proactively. While new businesses should use a SWOT analysis as a part of their planning process.
Importance of SWOT Analysis
A SWOT analysis will help a business identify its internal strengths and weaknesses, and any external threats and opportunities.
By conducting a SWOT analysis, the business will recognize problems both in the present and future that need addressing which will help them determine the overall business strategy.
A SWOT analysis can help marketers to discover key unique selling propositions that can aid with creating compelling messages to the business's various target audiences.
it can help you uncover opportunities that you are well-placed to exploit. And by understanding the weaknesses of your business, you can manage and eliminate threats that would otherwise catch you unawares.
Using SWOT analysis, you can create a strategy that will help you differentiate yourself from your competitors so you can stand out and so that you can compete successfully in your market.
How to Create a SWOT Analysis
It is easy to ask yourself questions such as

What advantages does my business have over my competitors?
What do we do better than anyone else?
What internal resources do we have?
Is my business in a poor location?
What areas need improvement to accomplish our objectives or compete with our strongest competitor?
But it's too soon to ask any of these questions. You need to first have a list of criteria to which we can evaluate for Strengths, Weaknesses, Opportunities, and Threats.

Examples of criteria to consider are financial health, customer service, customer trends, market trends, etc.
Internal Factors to Consider for a SWOT Analysis
The main factors assessed for the internal SWOT (Strengths and Weaknesses) are:
The Business Financial Health
Cash Flow
Profits
Capitalization
Investment
Marketing Strategies and Tactics
Marketing budget and resources
Brand image and perception
Marketing orientation
Customer satisfaction
Marketing mix (4P's & 7P's)
Management Structure and Business Culture
Company training and development program
Recruitment and succession planning
Skills and knowledge of the staff
The skills of senior management
Overall morale and motivation
Customer Service
Product and service portfolio
Production and customer expectations
Distribution and accessibility of products
Customer facing systems and procedures
External Factors to Consider for a SWOT Analysis
The main factors assessed for the external SWOT (Opportunities and Threats) are:
Marketing Trends Analysis
Competitor activities
Sector structures
Customer Trends Analysis
Buying trends
Brand loyalties
Complementary product analysis
External Business Analysis
Profit trends
Benchmarking with other sectors
Financial Predictions
Rather than jumping to analyze your business overall strengths and weaknesses, it would be better to break down your business into several aspects (internal and external factors), and then ask questions regarding each factor.
Creating A SWOT Analysis
Questions To Ask During A SWOT Analysis
Strength
Identify the things your business or products/services do well, and what sets your business apart from the competition. These will help you when writing your marketing message.

What advantages does your company have over your competitors?
What do you do better than anyone else?
What assets do you have in your team, such as knowledge, background, education, credentials, network, reputation, or skills?
What tangible assets do you have, such as customer, equipment, capital, credit, existing customers or distribution channels, patents, or technology?
What is your company's Unique Selling Proposition (USP)?
What business processes are successful?
Do you have strong research and development capabilities? Manufacturing facilities?
What other positive aspects, internal to your business, add value or offer you a competitive advantage?
What unique or lowest-cost resources can you draw upon that others can't?
What do people in your market see as your strengths?
Weakness
What areas could be improved within your business or products/services? What is holding you back?

What business processes need improvement?
What areas of your business needs improvement to accomplish your objectives or compete with your strongest competitor?
What does your business lack (it could be certain skills or technology)?
Does your business have limited resources?
Is your business in an ideal location?
What are people in your market likely to see as weaknesses?
What factors cost you sales?
Are there things that your business needs to be competitive?
Opportunities
Identify any key trends or gaps in your market. Think about potential alternative markets or new for your products/services.

What opportunities exist in your market or the environment that you can benefit from?
Is the perception of your business positive? ie. do customers think highly of you?
Has there been recent market growth or have there been other changes in the market the create an opportunity?
Are there upcoming changes to regulations that might impact your company positively?
Are there upcoming events that your company may be able to take advantage of to grow the business?
Is the opportunity ongoing, or is there just a window for it? In other words, how critical is your timing?
Is your market growing and are there trends that will encourage people to buy more of what you are selling?
Threats
What external factors could cause harm to your business?

Who are your existing or potential competitors?
What factors beyond your control could place your business at risk?
Are there challenges created by an unfavorable trend or development that may lead to deteriorating revenues or profits?
What situations might threaten your marketing efforts?
Has there been a significant change in supplier prices or the availability of raw materials?
What about shifts in consumer behavior, the economy, or government regulations that could reduce your sales?
Has a new product or technology been introduced that makes your products, equipment, or services obsolete?
What obstacles do you face?
What are your competitors doing?
Are quality standards or specifications for your job, products or services changing?
Is changing technology threatening your position?
Do you have bad debt or cash-flow problems?
Could any of your weaknesses seriously threaten your business?
Do you have potential competitors who may enter your market?
Are there market trends that could become a threat?
Example of SWOT Analysis
Here's a simple version of the SWOT analysis I created for an architecture company in Nairobi in 2017.
Strenghts:

XXX sister company XXX – a turnkey construction company, has played a critical role in acquiring new business.

Partnerships with Quantity Surveyors and Engineers have played a major role in acquiring commercial and institutional projects.

Experts in architecture design and project management as proven by their 20 years

Diverse portfolio of hospitality, residential, commercial/office, aircraft hangers, interiors, and institutional projects

Mobile responsive website

Active social media presence

Strong financial backing
Weaknesses:
Marketing roles and responsibilities are not clear and defined

Client referral rely heavily on senior management team

Poor online visibility

Website load time is slow

Static website with little lead generation capabilities

Low engagement on social media

No email marketing efforts

No content marketing efforts
Opportunities:
A booming construction industry

Growing demand for residential and mall designs

Increase in internet and mobile penetration in Kenya means potential to acquire new business through online channels especially Whatsapp
Threats:
Increased competition is squeezing their margins

Sales have fallen due to the upcoming elections

Competition from international design companies

Restriction on advertising on professional services prevents them from running ads
TOWS Analysis: Converting SWOT Analysis into Business Strategies
Now that we know what SWOT is, and how important it is for your business, it's time to put it to practical use.

Once you've completed your SWOT analysis, you can use the results to develop short term and long-term strategies for your business. Think about it, now that you know your strenhts and the opportunities available to you, it would be in your best interest to maximize on these and minimize your weaknesses and threats.

But, this raises the question "How do I turn the results of my SWOT analysis into strategies?"

One of the best ways to do is to consider how the four or five elements of your analysis ie (Strengths, Weaknesses, Opportunities, Threats, and Trends) overlap with each other. This is called a TOWS Analysis or the TOWS Matrix.
What is TOWS Analysis
TOWS analysis or TOWS Matrix is a variant of the SWOT Analysis, but this time aimed at developing strategic options either for the overall business or for marketing campaigns.

Practical!
Look at the SWOT analysis above, or create a simple SWOT analysis for your business. Look at the strengths listed in the analysis and then come up with different ways to use those strengths to maximize the opportunities listed in the opportunities section of your SWOT analysis.

You'll get Strengths-Opportunities Strategies

Next look at the strengths you listed earlier, but this time instead of coming up with ways to maximize your opportunities, look at how your strengths can minimize the threats listed in the threats section of your SWOT analysis.

You'll get Strengths-Threats Strategies

Continue this process to get Opportunities-Weakness Strategies and Weakness-Threats Strategies.

The next step is to organize the four different types of strategies you came up with in a nice table. Ideally, you'll have something that follows this format.


Opportunities
(External, Positive)
Threats
(External, Negative)
Strengths
(Internal, Positive)
Strength-Opportunity Strategies
Which of your business strengths can be used to maximize in the opportunities listed in your SWOT Analysis?
Strength-Threat Strategies
How can you use your business strengths to minimize the threats listed in your SWOT Analysis?
Weaknesses
(Internal, Negative)
Weakness-Opportunity Strategies
What can you do to minimize your business weakness using the opportunities listed in your SWOT Analysis?
Weakness-Threats Strategies
What can you do to minimize your business weakness to avoid the threats listed in your SWOT Analysis?
Conclusion
Once you've outlined the different strategies, you'd need to include them in your strategic plan, discuss the tactics you'll use to implement these strategies, and KPI's that you'll measure to gauge the success or failure of your strategies.